2018 "We Care" Sponsorship Campaign
We hope you will consider pledging a 2018 contribution to help provide services for children in your area battling cancer and blood disorders through our 2018 WE CARE campaign.
A couple of highlights for this 2018 campaign:
Pledge your support now and displayed the WE Care material in your dealership the entire year.
This year, you can send/pay your contribution when it is convenient for your business.
Your contribution will support our kids in a way that is meaningful for you. Choose to contribute to specific services we provide our 6,000 patients at our treatment centers here in New Jersey.
Your customers will recognize your support of The Valerie Fund Children, through the display in your showroom, PR and social media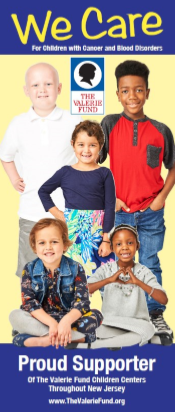 WE CARE is designed to support specific aspects of the care The Valerie Fund provides more than 6,000 children from every county throughout the state each year:
At the Centers – Your donation will enable The Valerie Fund to maintain programs, resources and staff necessary to surround patients and their families with a range of therapeutic services close to their homes without regard to insurance reimbursements.
Camp Happy Times – Your donation will offer a free one-week overnight camping experience in the Pocono Mountains to children who have or have had cancer.
Scholarships – Your donation will help fulfill the continuing education dreams of patients attending vocational schools, community colleges, major universities and graduate schools. 
The cost of treatment we provide is rarely covered by the patient's insurance. Please take a moment to consider how your 2018 dealership's contribution can directly impact the care of The Valerie Fund Children.
Download the We Care Form
All contributions are 100% tax deductible