Art will shine for critically ill children from our area on Friday, February 2, 2018.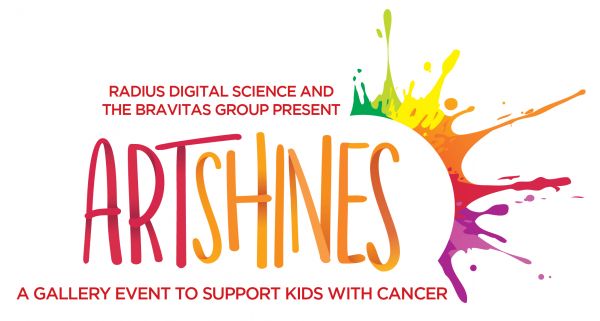 ArtShines 2018 is a gallery event sponsored by Radius Digital Science at their office on 491 Bloomfield Avenue, Suite 104, in Montclair, New Jersey. Proceeds will benefit the children and families of The Valerie Fund and Leukemia & Lymphoma Society (LLS) through types of supportive care. Programs include art therapy, counseling, a week at overnight camp, and many more services that promote healing and allow kids to feel like kids.
Sponsors for the event include ArtShines Partners: Radius Digital Science, The Bravitas Group, Inc., and The Silver Family Foundation, and Otsuka America Pharmaceutical, Inc.
Last year, Otsuka America Pharmaceutical, Inc. partnered with Radius to launch My Leukemia Journey, a website resource for people and their families living with leukemia. This project served as a motivator for Radius to get involved, first-hand, to give to this special group of people on another level.
Additional Sponsors include: The DeSalvo Family and Clear Mountain Partners, LLC; Bobbi Brown and Steven Plofker, Ashenfelter, Slous, Trembulak, McDonough, Golia & Trevenen LLP; Lum, Drasco, & Positan, LLP; Elm City Communications; The Clarke Family; Little Bear Poke.
The Valerie Fund often utilizes art therapy to cope with stress and provide relief from symptoms while being treated for childhood cancer and blood disorders. The simple pleasures of creating art allows patients to express themselves and can be used as a non-threatening way to talk about their illnesses.
Co-founder and CEO of Radius, Michelle Peterson said "Nothing drives us quite like working with patients directly. We try to visit The Valerie Fund at St. Joseph's Children's Hospital in Paterson, NJ, once a month. We bring paper and a few ideas, and settle in with the kids for a few hours to make art. Being with those kids puts everything into perspective very quickly. The strength and grace I witness from them and their parents is inspiring. ArtShines is our way of giving back."
"Nearly everyone, including myself, has a close relative or friend who has had or is currently fighting cancer. Events such as ArtShines 2018 highlight recent advancements in cancer care and research, as well as help raise money to fund research that will lead to cures," said Bob Silver, CEO of The Bravitas Group and longtime supporter of The Valerie Fund and The Leukemia & Lymphoma Society. "We are thrilled to partner with our friend and tenant, Radius Digital Science, to bring our community an evening filled with art, food, and drinks -- with the goal of benefitting kids with cancer."
Opening their doors to the public for the first time, Radius' unique gallery will be featuring artwork from regional and world renowned artists for purchase. A very special piece, inspired and art directed by the patients at St. Joseph's Children's Hospital, and created by the Radius team, will be auctioned that evening.
The event will include an open bar, full service of hors d'oeuvres, and a live musical performance provided by JazzHouse Kids. To become a sponsor visit www.thevaleriefund.org or https://www.artshines.org. Tickets for the event can be purchased for $50. As space is limited, it's recommended to order tickets online early.
Contact: Bunny Flanders, The Valerie Fund, 973-761-0422 ex. 14, bflanders@thevaleriefund.org
About The Valerie Fund- Each year TVF supports over 6,000 children and their families dealing with the social, emotional, developmental, and physical challenges associated with pediatric cancer and blood disorders. Seven Valerie Fund Children's Centers are located in major hospitals throughout NJ, NY, and metro Philadelphia.
About The Leukemia & Lymphoma Society- The mission of LLS is: Cure leukemia, lymphoma, Hodgkin's disease and myeloma, and improve the quality of life of patients and their families. LLS exists to find cures and ensure access to treatments for blood cancer patients.
About Radius Digital Science- Really, it's about art. Art for the sake of Science. Based in Montclair, NJ, Radius Digital Science was founded by–and for–highly skilled scientific storytellers, with a clear vision of providing the most effective, accurate scientific communications for the healthcare industry. With an extremely specialized team of scientifically trained, tech-savvy, creative strategists, our primary responsibilities are to those we produce education for: patients and their loved ones caring for them, and the healthcare professionals seeking to understand the difference between therapies. For these reasons and more the work we produce is executed with dedication and reverence. ArtShines is our way of getting involved, first-hand, and giving back.
The Bravitas Group, Inc. is a Montclair, NJ based firm founded by Robert H. Silver and Rhonda A. Silver in 2006 with the goal of having a positive impact on the local community. The company realizes this vision mainly through real estate and other entrepreneurial projects and philanthropy. Specifically, Bravitas: Creates green, architecturally interesting spaces through the adaptive reuse of existing, outmoded structures; Gives back by supporting nonprofit organizations focused on helping children and families, cancer research and related social services, mental health issues and Jewish culture and heritage; Supports the local community by utilizing space in Bravitas properties for cultural development activities, such as art shows, and allowing other local groups to use space for meetings and other activities; Invests in emerging private companies that provide technological services or meet the needs of underserved populations.
Back to News Main Page