Flashes of Hope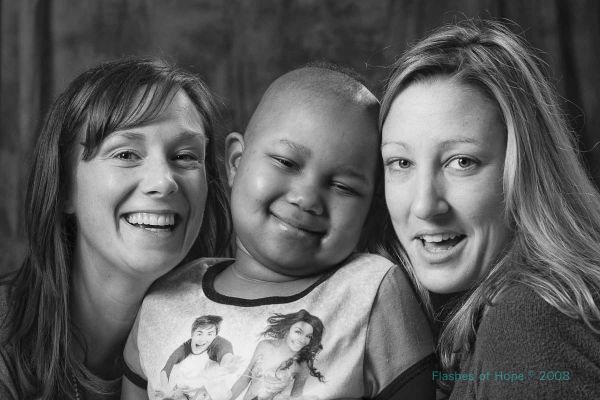 Flashes of Hope © (FOH) is a Cleveland-based non-profit organization dedicated to creating uplifting photographic portraits of children fighting cancer and other life-threatening illnesses. Classic black and white portraits, taken by volunteer award-winning photographers, help sick children feel better about their changing appearance by celebrating it!
In spring 2008, FOH opened a Valerie Fund chapter. Rotating among our centers at St. Barnabas, Newark Beth Israel,b Morristown Medical Center, and Overlook Hospital, there is a FOH photo shoot at one Valerie Fund location about once a month. Patients, siblings, parents, and even caregivers are all able to get in the picture.
Volunteer hair and make-up artists help anyone who is going to be photographed to look and feel their best. While the children of course love it, the psychic lift that a little attention and pampering brings to a parent who hasn't had time to think about him or herself for months cannot be overestimated.
About 4-6 weeks after the photo shoot the families receive a beautiful portrait gift package, including a leather portfolio with two 8x10 portraits, a stack of 4x6 proofs, and a CD with digital copies of all the images.  A release letter from the photographer allows the families to take the CD to any photo processor to have copies made. The gift packages, as well as the photo session, are all free to the families because all participating photographers, stylists, and Valerie Fund photo shoot organizers volunteer their time and services.
For the children who survive their fight with cancer, the portraits become treasured reminders of their strength and determination.  For the families of terminally ill children, the portraits preserve forever the beauty, grace and dignity of their child.