Childers Sotheby's International Realty Supports The Valerie Fund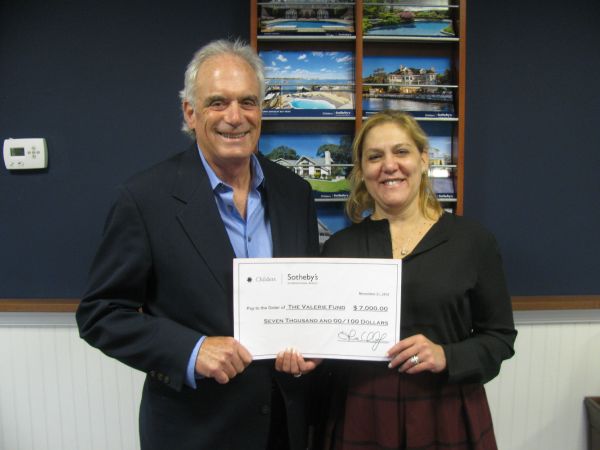 The Valerie Fund partnered with Childers Sotheby's International Realty this year and raised over $7500 to support children in the area with cancer and blood disorders. The company and agent participation was a significant investment in the communities where they do business. In return, the new fundraising initiative promoted their efforts through extensive media coverage, website recognition and other marketing benefits.
The Valerie Fund (www.thevaleriefund.org) provides important health care services to over 6000 children with cancer and blood disorders at our seven centers in North, South and Central New Jersey. Their mission is to integrate top-notch medical care with a growing range of customized therapeutic services offered by Social Workers, Child-Life Specialists, Educational Liaisons, Psychologists, Hemophilia Nurses, Patient Navigators and specialists in Integrative Medicine and Palliative Care. These services play a vital role in addressing quality of life issues during the patient's treatment and healing process but are rarely covered by health insurance.
Owner Lee Childers said, "Supporting the Valerie Fund is an easy decision for Wendy and me. Our family has dealt with our share of cancer, most recently our first grandson. Our grandson is now doing great, and has an excellent prognosis. It is wonderful to know there is an organization out there helping families deal with the most stressful of circumstances.......a child with cancer." Co-owner Wendy Childers is also a longtime volunteer at Camp Happy Times, a free one-week overnight camp offered by The Valerie Fund for children with cancer or cancer survivors.
Bunny Flanders, Director of Marketing and Communications at The Valerie Fund said, "Childers Sotheby's International Realty was amazing with their support this year. They truly understand the Goldstein's mission, bringing outpatient care for children with cancer and blood disorders close to home."
Back to News Main Page