Annual Sickle Cell Awareness Blood Drive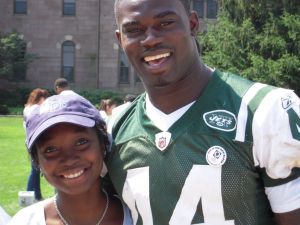 July 27, Maplewood, NJ - The Valerie Fund held its 2nd Annual Sickle Cell Awareness Blood Drive on Saturday in collaboration with The Three Doctors Foundation Annual Health Walkathon, hosted by Seton Hall University. The Valerie Fund achieved its goal of bringing in new blood donors of African descent who may be potential matches for children with sickle cell in our area—nearly three times as many as it's first drive less than a year ago. Exact matches for children who often require blood transfusions to stave off pain crises and strokes that can lead to learning disabilities or even death, only will be found from among donors who share an ethnic background with the recipient. This makes matches hard to find because there is a critical gap in the blood supply from Black blood donors. Collaborating with the Three Doctors Foundation, which chose sickle cell as its highlighted health issue for this year's walkathon, The Valerie Fund was able to increase awareness of the importance of blood donation and sickle cell education for all African-Americans. Valerie Fund patients DeLeesa O'Brien, age 20, who is treated at the Valerie Fund Center at St. Barnabas Medical Center; Tyler, who is treated at The Valerie Fund Center at Children's Hospital of Philadelphia/Voorhees Section; and Valerie Fund mother, Khaliah Moon, whose daughter is treated at the Valerie Fund Center at Newark Beth Israel Medical Center all offered emotional testimony about the importance of blood donation in their lives. These children receive blood transfusions every four to six weeks and are reliant on volunteer blood donors for their life-saving treatment. Defensive Back James Ihedigbo, #44 for the New York Jets, threw his weight behind the cause Saturday, coming out to speak to the crowd gathered about his support of this important initiative and serving as a role model by donating blood at the drive. Those who wish to make a blood donation for this cause may do so by calling the Blood Center of New Jersey (www.bloodnj.org) to schedule a donation and use the sponsor code 32681 to attribute their donation to this initiative.
 The Valerie Fund is supported through corporate and foundation grants, special and community events, individual donations, bequests and direct mail solicitations. The organization is located at 2101 Millburn Ave., Maplewood, NJ.
Back to News Main Page