CareOne's Daniel E. Straus Sets $1 Million Goal in Support of The Valerie Fund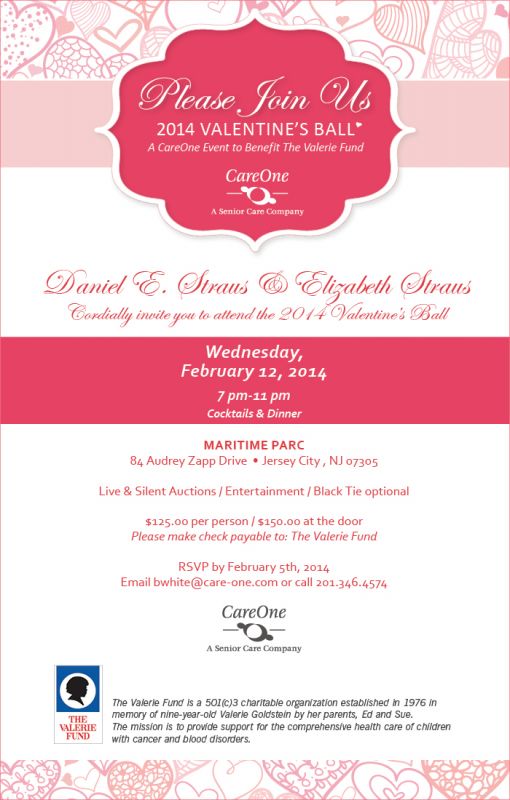 Valentine's gala fundraising event to help provide treatment for New Jersey children with cancer and blood disorders
FORT LEE, N.J. – CareOne LLC Chief Executive Officer Daniel E. Straus today announced a $1 million fundraising goal for CareOne's Wednesday Feb. 12, 2014 Valentine's Ball, an evening event in support of The Valerie Fund and the thousands of New Jersey children with cancer and blood disorders for whom it provides care.
"Those of us at CareOne feel that there's no more meaningful way to celebrate Valentine's Day than in support of The Valerie Fund," said Straus. "The work of The Valerie Fund is heartwarming, supporting both superb state-of-the-art outpatient healthcare and emotional support each year for thousands of New Jersey children with cancer and blood disorders. The fund is a wonderful example of love being expressed by giving to others, and we are proud to support it. We've set a fundraising goal of $1 million. That's an ambitious goal but I am confident in the ability of our team to achieve and perhaps even exceed it."
Straus said CareOne executives and team members from CareOne Centers in New Jersey, and affiliated companies HealthBridge Management and Care Virginia located in Massachusetts, Connecticut, Pennsylvania, Maryland and Virginia have worked energetically to raise money for the companywide fundraiser. "I am so proud of the CareOne team," he said. "In addition to CareOne executives and team members, residents of many of our Centers raised funds with events such as bake sales and jewelry sales. Many of our vendors and suppliers also participated. This is the CareOne community coming together to help those in need."
Elizabeth Straus, daughter of Daniel E. Straus, has been instrumental in organizing the event. More than 200 CareOne executives and team members are expected to attend the Valentine's Ball, with total expected attendance of more than 500. The black tie optional 7 p.m.-11 p.m. event will be held at Martime Parc, Jersey City, and in addition to an evening of dancing will feature both live and silent auctions, entertainment, and celebrity appearances.
The Valerie Fund co-founders Ed and Sue Goldstein commented: "The hard work and tremendous empathy of all those in the CareOne community has been remarkable to witness. The Valentine's Ball will go a long way towards supporting the Valerie Fund's mission. It will  allow us to continue to provide comprehensive healthcare support for the seven Valerie Fund Centers that are so vital to these children and their families, including those without medical insurance."
In addition to supporting treatment at the Valerie Fund Centers, some of the funds raised will go to providing scholarships, transportation to treatments for patients who otherwise would have to depend on public transportation, and Camp Happy Times – an annual free one-week overnight camp experience for 200 children who have or have had cancer.
More than 20 healthcare and hospital executives from across New Jersey are planning to attend, including representatives from the seven top hospitals at which Valerie Fund centers are located.
In late December 2013, the CareOne community joined together to provide more than 3,000 toys to Valerie Fund patients just before Christmas.  If the group meets its fundraising goal Wednesday, they will have raised more than $2 million in charitable donations in less than two years. In addition to The Valerie Fund, more than $1 million was raised at a December 2012 CareOne Disaster Fund event to aid more than 100 CareOne employees who suffered significant losses during Hurricane Sandy.
To register to attend the Valentine's Ball or to make a donation, please go to: http://www.thevaleriefund.org/valentineBall/
#  #  #
Media Note: Members of the news media are welcome to cover the Valentine's Ball. If you would like to attend, please contact Tim Hodges at 201-242-4034 or press@careonefacts.com
About CareOne: For more information about CareOne, go to: http://care-one.com
About The Valerie Fund: Established in 1976 in memory of Valerie Goldstein, The Valerie Fund's mission is to provide support for the comprehensive health care of children with cancer and blood disorders.  Families turn to The Valerie Fund because of the combination of medical care, counseling, and other services it provides.  The Valerie Fund Children's Centers comprise the largest network of healthcare facilities for children with cancer and blood disorders in New Jersey, and one of the largest in the nation.  There are seven Valerie Fund Children's Centers providing caring, comprehensive, state-of-the-art outpatient health care to more than 4,000 children and their families each year.  Patients receive far more than treatment for their physical illnesses.  Our philosophy is that to truly heal the children with whose care we are entrusted, we must treat them emotionally, socially, and developmentally, as well as medically. For more information go to: http://www.thevaleriefund.org
#  #  #
Back to News Main Page