CareOne CEO Daniel E. Straus Announces 2014 Fundraising Campaign for the Valerie Fund; Donates $10,000 Now and Promises 500 Toys in Time for Christmas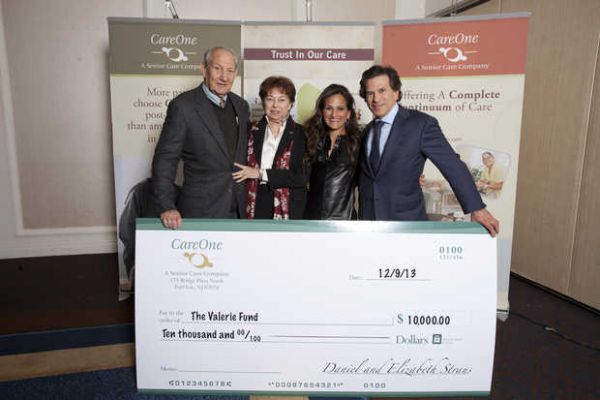 BERGEN COUNTY, N.J.— CareOne CEO Daniel E. Straus has announced the company's fundraising campaign to benefit New Jersey's largest network of healthcare facilities for children with cancer and blood disorders, donated $10,000 to the group and pledged that the CareOne community will donate 500 toys to the centers' children by Christmas.Announcing the 2014 fundraising campaign for the CareOne community – a community Straus described as the employees, residents, family members of residents and vendors of the 60 CareOne facilities – Straus said: "Our hearts go out to the children and families who depend on the vital services of the Valerie Fund Children's Centers for Cancer and Blood Disorders, and this is our way of expressing our strong support for the fantastic work of the Valerie Fund. CareOne looks forward to supporting the Valerie Fund centers in 2014."
Accepting the $10,000 donation in ceremonies Monday, Valerie Fund co-founders Ed and Sue Goldstein said in a statement, "We deeply appreciate the support of the CareOne community –the current donation and the priceless gift of toys for the children at our care centers during the holidays as well as the magnificent fund raising campaign CareOne has set for next year. Those funds will be a big help in supporting the caring, comprehensive, state-of-the-art outpatient health care we provide children in the more than 25,000 patient visits the Valerie Fund hosts each year."
Straus said the staff, residents and family members of residents in the New Jersey CareOne facilities will be joined by their counterparts in Massachusetts, Pennsylvania and Virginia CareOne facilities in collecting and donating the 500 toys, which will be delivered to the seven Valerie Fund healthcare centers on Dec. 23 and 24. "We want to make certain that no child is without a holiday present," said Straus, "and this project has been eagerly embraced by members of the CareOne community."
He said that while some 2014 plans for support of the Valerie Fund are still being formulated, CareOne does plan a major New Jersey fundraiser gala during Valentine Day's week, and a significant volunteer effort to support the Valerie Fund's annual Camp Happy Times – an annual free one-week overnight camp experience for children aged 5-21 who have or have had cancer. Nearly 200 children attend each summer.
The fundraising gala will be held on Feb. 12, 2014 at the Liberty Science Center in Jersey City, N.J. Plans for the other CareOne fundraising activities will be announced at a later date, Straus said.
The Valerie Funds centers are located at top pediatric hospitals within an hour's drive of most of New Jersey's population, providing state-of-the-art medical and emotional care in a happy, upbeat, child-centered atmosphere. The hospitals with which the centers are associated and their locations are Morristown Medical Center, Morristown; Saint Barnabas Medical Center, Livingston; Newark Beth Israel Medical Center, Newark; Columbia University Medical Center, New York City; Overlook Medical Center, Summit; Children's Hospital of Philadelphia, Voorhees; and Children's Hospital at Monmouth Medical Center, Long Branch.
About CareOne: With a focus on the highest standards, clinical best practices and strong management principles, CareOne has developed a reputation as a premier health care company in New Jersey. With services that include post-hospital care, rehabilitation, assisted living, long-term care and a variety of clinical specialty programs, CareOne offers compassionate care in gracious, professionally managed centers and communities. See more at: http://care-one.com.
Read more here: http://www.heraldonline.com/2013/12/10/5490113/careone-ceo-daniel-e-straus-announces.html#storylink=cpy
Back to News Main Page