Family of Late Business Execs Toby Tyler and Brock Lovero Host Golf Outing in Support of The Valerie Fund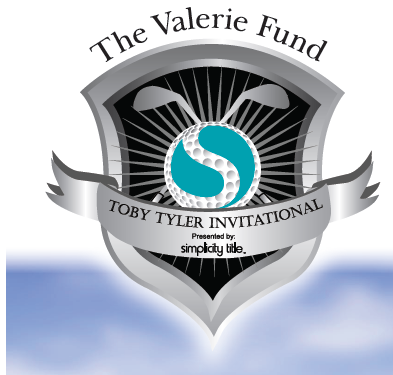 3rd Annual Toby Tyler Golf Invitational to be held on Thursday, October 6, 2016 at Fiddler's Elbow Country Club in Bedminster, 

New Jersey Proceeds will benefit children in our area battling cancer and blood disorders
Maplewood, NJ – On Oct 6, 2016 family, friends and business associates will join organizers Luke Tyler and Art Moss for a round of golf and dinner at Fiddler's Elbow Country Club in Bedminster, NJ. Luke Tyler, the son of Toby Tyler and Founder/CEO of Simplicity Title is inspired by the number of participants and sponsors who have already committed to the event and predicts this will be an extraordinary fundraising opportunity to support the children and families of The Valerie Fund. Last year's outing hosted 100 golfers and additional dinner guests and more than $100,000 was raised.
Noble Construction Group LLC has signed on as a Platinum sponsor and the Palace at Somerset and Morgan Engineering LLC will be recognized as Gold sponsors. Sponsorship opportunities are still available and begin at $250 up to $7500. Be a Player participation is $390 per golfer. Anyone interested in attending the dinner only ($125 each) is welcomed. Please visit tobytylergolf.org for more details.
The 3rd Annual Toby Tyler Golf Invitational celebrates two men who lived life with purpose, grace and meaning and their selflessness touched many lives. Richard (Toby) Tyler was an accomplished business leader, a dedicated volunteer and wonderful family man. He passed away at the age of 48 following an eight-month battle with cancer and though far too brief, Toby's remarkable life was filled with love and advocacy for children. Sadly, Luke was quite young when his Dad died and was very fortunate to have this year's event honoree, Brock (Fath) Lovero as a surrogate father and later, as his father-in-law. Brock built a strong career in housing development, led teams for over 40 years in the construction of new homes and took tremendous pride in being a craftsman. Brock died on December 2, 2015 and is missed dearly by family, friends and community.
As Luke and Art renew their commitment to this event for the third year, they are motivated by Brock's spirit which continues to live on. Luke says, "This year, it is our sincere privilege to honor Brock at our 2016 charity golf event to raise funds for children with cancer and blood disorders being treated at The Valerie Fund". Both Luke and Art hope to pay tribute to their "lost hero" by making this year's event twice as successful as the last.
Back to News Main Page