Grace attends roundtable hosted by Vice President Pence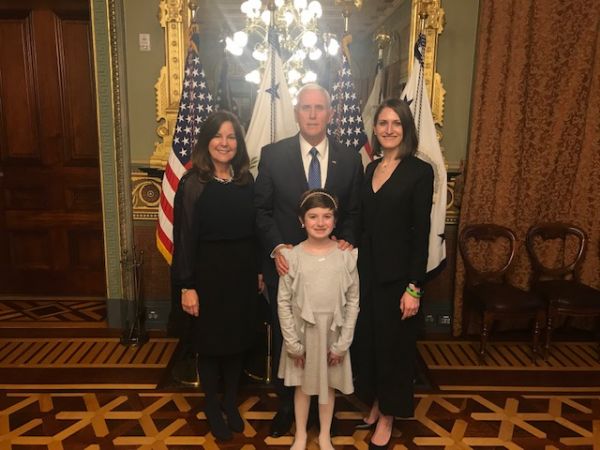 Maplewood, N.J. March 18, 2019 – Grace, a current Valerie Fund Patient is truly an amazing young girl has been invited to the white house again on Wednesday, March 20 to a round table hosted by Vice President Pence regarding his Pediatric Cancer Initiative.
During the State of the Union of February 5, 2019 which Grace also attended, the president announced additional funding to boost pediatric cancer research.
In May 2018, nine year-old Grace received a devastating diagnosis, she had a Germ Cell Brain Tumor. Grace's treatment brought her to The Valerie Fund Children's Center at Newark Beth Israel. After rounds of chemotherapy and radiation, she is recovering well. Grace and her family are committed to giving back to help other children treated at The Valerie Fund.
Last June, they spearheaded a fundraising effort during The Valerie Fund's annual 5K Run and Walk by raising $35,000. Grace's grandfather, Dan Reichard, wanted to collaborate further and offered a 7,000+ square foot Colonial home in Plainfield, NJ, which has been christened "Grace's House, " as a designers show house that will be open April 25th through May 19th.
To help Grace and her family continue their quest to help the 6,000 patients treated at The Valerie Fund you can sponsor Grace's walk team "GG's Angels" or "Grace's House" by visiting https://thevaleriefund.org/Walk2019/.

Grace's House- -Proceeds from tours of the show house, ad journal and sponsorships will benefit expanded care through The Valerie Fund's Green Light Initiative, a $5,000,000 Capital Campaign. This initiative is the most ambitious chapter in The Valerie Fund's history to date, poised to extend "next generation care" to thousands of children fighting life-threatening diseases.
At The Valerie Fund each year, Grace and 6,000 children benefit by receiving their medical treatment close to home in a child-centered environment. Individualized support from a psychosocial team Integrative and palliative care specialists, psychologists, social workers, child life specialists and educational liaisons makes sure their quality of life is the best it can possibly be without regard to insurance reimbursements. Grace's favorite – Camp Happy Times, is a free one week overnight summer camp for children with cancer.
The Valerie Fund is celebrating Moms on Saturday, Mar 11th with a brunch at Shackamaxon Country Club and Tour of the house https://www.thevaleriefund.org/specials/showhouse/tickets.php#tickets
Grace's House, open every Thursday through Sunday Thursday, April 25th - Sunday, May 19th. Tickets for the house tours are $30 on The Valerie Fund website https://www.thevaleriefund.org/specials/showhouse/tickets.php and $35 at the door.
Back to News Main Page