In Their Own Words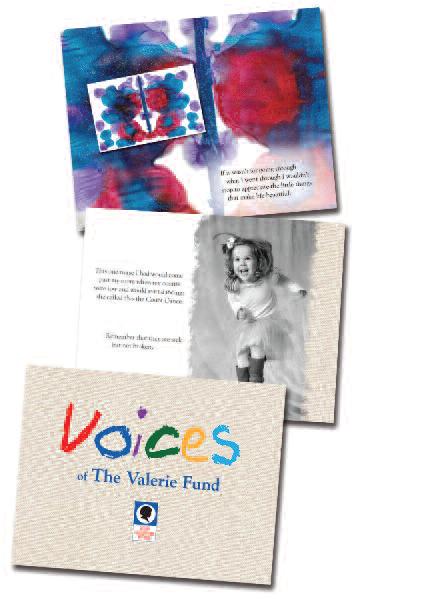 It is difficult to understand the effect of a serious childhood illness—on the patient or loving family members or friends—if you have not experienced it personally. A new publication of The Valerie Fund is an attempt to bridge that gap. Voices of The Valerie Fund is a compilation of quotations, photos, poems, song lyrics and drawings collected from our patients and their families. It offers the opportunity to learn how childhood cancer and blood disorders has affected their hopes, fears, and dreams in their own words, through their artwork, and from the remarkable expressions on their beautiful faces. The creation of the book was a team effort involving TVF co-founder and professional writer Sue Goldstein, writer/editor, Rhonda Silver. The team sent requests to patients, former patients, and family members, asking them to describe in any format they wanted their journey through childhood illness. What came back was nothing short of extraordinary in terms of insight, emotion, honesty and sheer power. Also striking is the humor and optimism that permeates the book. This year's Thanksgiving Ball guests received copies of Voices of The Valerie Fund.
It will also be available at our Centers for patients and families to read and draw strength from, particularly those new to a diagnosis. Long range plans include adding material to the book and publishing it with the intent of marketing it to an outside audience, helping to raise awareness of The Valerie Fund as well as to provide hope and support to anyone dealing with the trauma of childhood illness.
The book is currently for sale at The Valerie Fund Gift shop and is available in soft cover and hard cover at http://www.thevaleriefund.org/tvfStore.php.
Back to News Main Page