OH WHAT A NIGHT! By Bella Rocco….Proud Valerie Fund Kid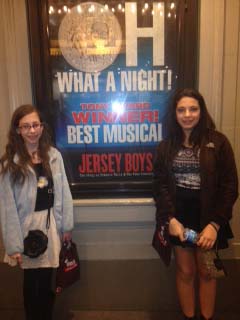 Recently, I had the unique opportunity to meet the Jersey Boy himself, Frankie Valli AND go see Jersey Boys on Broadway thanks to the generosity of the show's producer Mr. Grano, Frankie Valli, and of course the wonderful people at The Valerie Fund. It was an experience I will never forget.
My mom told me I was going to meet him, because he was donating his time to speak on behalf of the partnership between NJ Auto Dealers and The Valerie Fund and we would be filming a PSA with him at a Ray Catena dealership. Though I didn't know a lot about him at first, I still was thrilled because my Mom told me he was "a really big deal!" Later that night, I looked up some of his music and to my surprise, I recognized a lot of the songs.
When I woke up the day I was meeting him, I was really excited because he is such a legend. In the car, the whole time I was anticipating what it'd be like to meet him. When we were finally in the Ray Catena car dealership, I met up with a bunch of people from The Valerie Fund along with other kids that were participating. We got to look at a lot of vintage cars as we waited for Frankie to arrive so we could shoot the PSA. The collection of cars there was really impressive.
As the Escalade pulled into the parking lot, all of us were waiting by the entrance. We led Frankie upstairs to where we'd get the footage for the video. We took a bunch of pictures with him and he taped his segment of the PSA. Afterwards, we all gathered to record the video with the Valerie Fund Kids and Frankie. It was fun to see how those types of videos are made. I even had a line to read in the video which was cool.
After that day of excitement, I was surprised to find out that the producer of Jersey Boys, Mr. Grano, generously gave us tickets to see Jersey Boys on Broadway. I went with my mom, Grandma, and friend Brielle. Brielle and her whole family have come to The Valerie Fund yearly 5k/walk for the past couple years with us and recently came to one of the mailing parties with me. I was really looking forward to the show and it was just as amazing as I had hoped it would be.
Prior to the show, we went out to eat and when we got into the city, Brielle and I took a ton of pictures. We got to go see Times Square and go into the Hershey store too. Once we took our seats in the theatre, I was shocked at how close we were to the stage. From start to finish, the show was amazing! Brielle, my Mom, my Grandma, and I all loved the performers and songs they sang. We had a great time that night. Learning about how the songs came to be, how hard Frankie Valli worked to get his music popular, and even where his name came from was really interesting and made me appreciate his legacy even more.
Overall, the experiences I have had because of The Valerie Fund are those I'll never forget. It was a once in a lifetime opportunity to meet Frankie Valli and see The Broadway show Jersey Boys that reenacts his life story. Those two days were spectacular in my eyes for so many reasons. I really hope that the campaign with NJ Auto Retailers is a success so that money can be raised to help the children and families of The Valerie Fund. I was happy have the opportunity to help out with the video. Thanks to Frankie Valli and Mr. Grano's generosity, I am sure that The Valerie Fund will probably have a lot of success with this campaign.
For more information about the campaign visit http://www.njautoretailersunite.org/

About the author- Bella Rocco-I was diagnosed with GIST at the age of 7, and have had 2 surgeries and countless MRIs but I am happy to report that I am currently a HEALTHY soon to be teenager and enjoy giving back to The Valerie Fund to make sure that other kids and families receive the same excellent care I did when I needed it!
Back to News Main Page