ONE FOR THE RECORD BOOKS: THE VALERIE FUND RAISES RECORD-SETTING $1 MILLION FROM ANNUAL WALK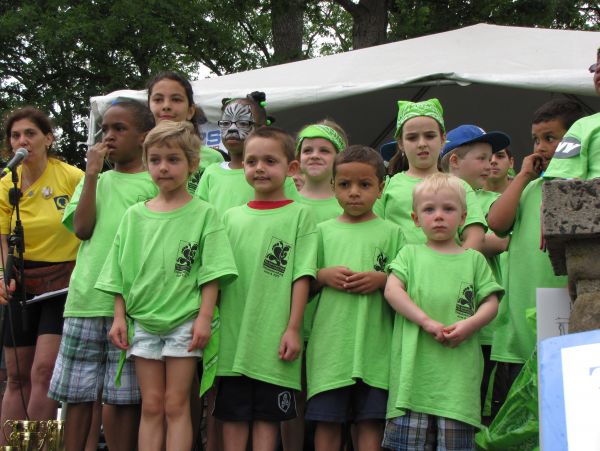 Funds to Go Directly Toward Treatment for Kids with Cancer and Blood Disorders
MAPLEWOOD, NJ, June 11, 2012 —More than 4,000 walkers and runners came out to Verona Park in support of The Valerie Fund's Annual Walk and JAG Physical Therapy 5K Run, raising a record-setting $1 million to benefit children with cancer and blood disorders on Saturday, June 9, 2012.
Due to an increase in corporate sponsorships, including those from Burger King, Investors Bank, Barnabas Health, Atlantic Health System, Inserra Shoprite and Village Shoprite, the Fund nearly doubled last year's total of $550,000.  The Valerie Fund has seven centers throughout New Jersey, New York and Metropolitan Philadelphia. The proceeds will fully fund five of the Valerie Fund Centers, which provide comprehensive health care and services for children with cancer and blood disorders.
"Reaching the $1 million mark is a huge milestone for our foundation, since we rely on the money raised to provide treatment for the children who live in our community," said Ed Goldstein, cofounder of the Valerie Fund. "The overwhelming amount of support from the participants and sponsors over the years, especially this year, has truly been inspiring."
Abby Goldberg, Walk Chair, added, "The kids of the Valerie Fund are true heroes.  Anything we can do to help make their lives better and more enjoyable during such stressful times is so rewarding.  Raising $1 million is life-changing for these kids and their families."
The Valerie Fund's Annual Walk has now raised over $2 million since 2006. The event has been backed by major sponsors including, JAG Physical Therapy, WCBS – TV, WCBS 880, U.S. Trust, The Edwin and Suzann Goldstein Family Foundation, Wakefern, Can Do Fitness Club, The County of Essex and Calabria Restaurant. Year after year, thousands have turned out to support the children and families at Valerie Fund Centers across New York, New Jersey and metropolitan Philadelphia.
Back to News Main Page