Seton Hall's "Pirate Thon" Dance Marathon raises over $28,000 to benefit The Valerie Fund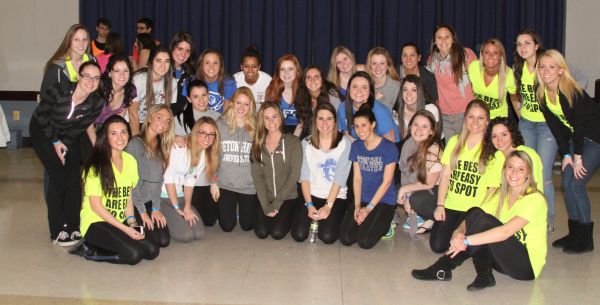 PIRATE DANCERS FIGHTING CANCER
Weekend's "Pirate Thon" Dance Marathon raises over $28,000 to benefit The Valerie Fund
MAPLEWOOD, N.J., February 26, 2013 – Seton Hall University students staged a spectacular 18-hour dance marathon in an effort to "take no prisoners" in the fight against cancer. Conceived by members of the school's Leadership Development Honors Program to benefit The Valerie Fund, a local non-profit organization that supports children with cancer and blood disorders, their cause energized hundreds of students to "dance because we can, stand for those who can't".
Opening ceremonies began at 6pm on Saturday, February 23, 2013 with heartfelt remarks by Bunny Flanders, Valerie Fund's Director of Communications and Special Events.  Valerie Fund patient Jarrett and his mother Elaina spoke about the compassion they were shown by Valerie Fund staff during his diagnosis and treatment and showed off the special pirate sword Jarrett used to destroy his cancer.
More than 500 supported the event. The students danced the night and early morning hours away in the University Center's Main Lounge on Seton Hall's South Orange campus. The collaborative efforts of volunteers and individual and business sponsorships beginning at $250 contributed to the huge success of this inaugural fundraising event. Live music, food, games, a pep rally and highlighter party made PirateThon the celebration of life and community that organizers envisioned it would be.
All proceeds will go directly to The Valerie Fund which funds treatment for children with cancer and blood disorders that not only addresses patients' medical issues but their emotional, social and developmental needs as well.
 Mona Safar said, "This was the most amazing experience, my fellow students really came together create this new Seton Hall tradition. We look forward to growing the event each year in support of the brave Valerie Fund kids."
Seton Hall University and The Valerie Fund applaud the generosity of the event's sponsors including DJ Dean Anthony who provided the music throughout the evening, Lifechangers Church, Above Restaurant and Bar, Investor's Bank, Kenilworth Sign-a-Rama, Gourmet Dining, Jay Sean, Sonny's Bagels, Starbucks, Cold Stone Creamery, Love and Yogurt, Carlo's Bakery, Park West Diner and Café, Stony's, and Splurge Bakery. Individual sponsors and their families were Mr. Kevin Cummings, Mr. Joseph Sheridan, Mr. Barry Kirschner, Mr. Bill Bartzak, Mr. Paul Tomkins, Ms. Lyubov Safar, Mr. David Duggan, Mr. David Duggan, and Ms. Betty Manetta.
Back to News Main Page