THE VALERIE FUND RAISES OVER $1 MILLION AT 10TH BIRTHDAY WALK
THOUSANDS TURN OUT TO SUPPORT THE CHILDREN AND FAMILIES OF THE VALERIE FUND
Funds to Go Directly Toward Treatment for Kids with Cancer and Blood Disorders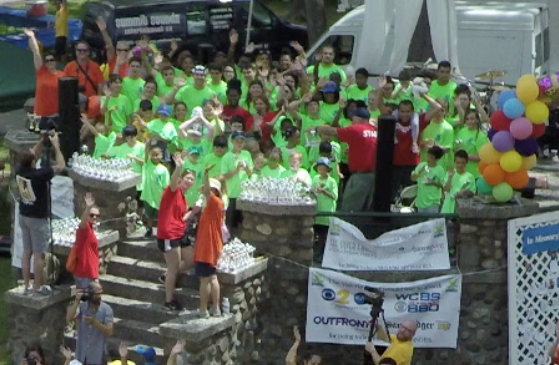 MAPLEWOOD, NJ, June 17, 2015 – More than 4000 walkers and runners came out to Essex County's Verona Park on Saturday, June 13, 2015 in support of The Valerie Fund's Annual Walk and JAG Physical Therapy 5K Run raising over $1 million to benefit children with cancer and blood disorders. For the fourth year in a row, fundraising efforts by more than 200 teams and corporate sponsorships brought in over $1,000,000. The proceeds will benefit the seven Valerie Fund Centers which provide comprehensive health care and services for children with cancer and blood disorders. These centers are located in top pediatric hospitals in New Jersey, New York and metropolitan Philadelphia.
The Valerie Fund's Annual Walk has now raised over $5 million since 2006. The event was backed by media sponsors WCBS-TV 2 HD, WCBS 880, Outfront Media, Clear Channel, Advance Media and The Star-Ledger who donate on air public service announcements, radio spots, billboards and full page ads. WCBS-TV 2 HD covers the event live at Verona Park. This year, Alice Gainer and Vanessa Murdock appeared at the park.
Major sponsors including JAG Physical Therapy, US Trust, Wakefern, The Edwin and Suzanne Goldstein Family Foundation, The Silver Family Foundation, Barnabas Health and Atlantic Health System continue to be the foundation of the event's success.
The individuals and businesses donating to the Walk have made it a priority to support the communities in which their employees live and work. In store and restaurant campaigns ranging from 1-6 weeks were conducted at Shoprites owned by the Inserra, Saker and Sumas (Village) families and at more than 130 Burger King locations.
Walk chair Abby Goldberg said, "The walk is such a special event. There is music, games, food and give-always but most of all the park is full of warmth. You look around and see all the brave TVF kids, the appreciative parents and thousands of friends and family cheering them all on. The day is a resounding win for our kids, Team Green!"
Ed Goldstein Co-founder of The Valerie Fund said, "What a sight. Seeing a sea of colors on more than 4000 people representing those in attendance, Green worn by Valerie Fund Children, Orange by Volunteers who made the event possible, and Gold by caring people who wanted to help our Valerie Fund Children get a second chance in life to beat this hideous disease. And it will happen with everyone's support."
Statement by Essex County Executive Joseph N. DiVincenzo, Jr.:
"We commend the Valerie Fund on such a successful and fun-filled event on June 13th. Essex County Verona Park was overflowing with walkers, runners and supporters who joined together that day to raise money and awareness to fight cancer and blood disorders affecting children. The energy and enthusiasm of all those present was inspiring and was evidence of the widespread compassion and caring for the Valerie Fund and those they help."

Over the past decade, this premier fundraiser has grown steadily over time---in attendance, number of donations and sponsorship participation.
Back to News Main Page