THE VALERIE FUND RAISES RECORD-SETTING $1 MILLION
THOUSANDS TURN OUT TO SUPPORT THE CHILDREN AND
FAMILES OF THE VALERIE FUND
CAPTAIN HOPE MAKES HIS DEBUT AT THE PARK
Funds to Go Directly Toward Treatment for Kids with Cancer and Blood Disorders
MAPLEWOOD, NJ, June 19, 2013 – More than 4,000 walkers and runners came out to Essex County's Verona Park on Saturday, June 15, 2013 in support of The Valerie Fund's Annual Walk and JAG Physical Therapy 5K Run raising a record-setting $1 million to benefit children with cancer and blood disorders.
For the second year in a row, fundraising efforts by close to 200 teams and corporate sponsorships brought in over $1,000,000. The proceeds will  fund the seven Valerie Fund Centers which provide comprehensive health care and services for children with cancer and blood disorders. These centers are located in top pediatric hospitals in New Jersey, New York and metropolitan Philadelphia.
The Valerie Fund's Annual Walk has now raised over $3 million since 2006. The event has been backed by media sponsors WCBS-TV and WCBS880 and by major sponsors including JAG Physical Therapy, US Trust, The Edwin and Suzann Goldstein Family Foundation, The Silver Family Foundation and Rubenstein Family Foundations, Barnabas Health and Atlantic Health System.
On site promotions took place at 135 Burger King restaurants, Calabria Pizzeria, Inserra, Saker and Village ShopRites and at 40 branches of Investors Bank. The County of Essex offered its support in a multitude of ways which led to an extremely enjoyable and well run event at Verona Park.
New mascot makes his first appearance at Verona Park: Valerie Fund patients Elijah, Braeden, Nicholas and James were empowered by their visions of a superhero that could help children fight cancer. "The Valerie Fund held a contest this year at our centers to create this superhero and Captain Hope was born!" said Bunny Flanders, Director of Marketing and Communications. The patients imagined him to be strong with large green feet to stomp out cancer cells. "He is strong and has a big heart and gives our patients the hope and strength they need to be brave and fight their disease.  Captain Hope will be visiting our centers in the next few weeks to help put a smile on the faces of some of the patients who could not be at the park" said Flanders.
Abby Goldberg, Walk Chair added, "The kids of The Valerie Fund are the true heroes. Anything we can do to help make their lives better and more enjoyable during their trying times is so comforting. Raising over a million again this year is amazing---it's all about the kids!"
Walk Anywhere for Valerie Fund Kids Everywhere: This year, new support came from an innovative partnership with Retro Fitness. The campaign saw more than 1000 members at 15 clubs take to their treadmills on June 15th in a virtual Walk/Run for Children.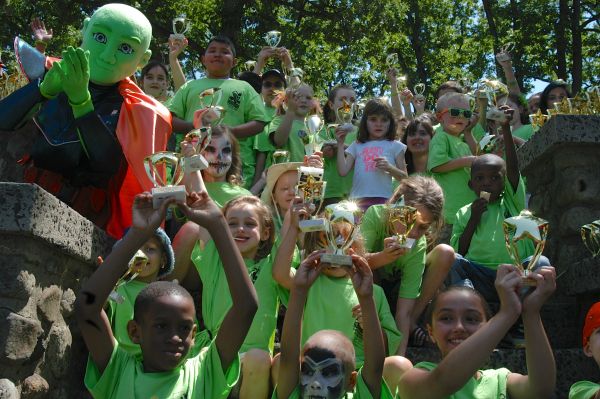 Back to News Main Page