The Benefit of Art When Treating Children with Cancer and Blood Disorders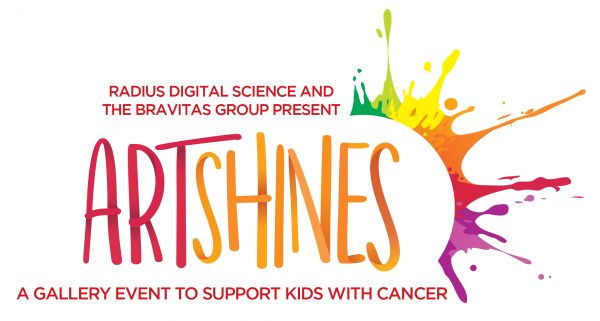 Art will shine for critically ill children from our area on Friday, February 2, 2018. ArtShines 2018 is a gallery event sponsored by Radius Digital Science at their office on 491 Bloomfield Avenue, Suite 104, in Montclair, New Jersey. All proceeds will directly benefit the families supported by The Valerie Fund and The Leukemia & Lymphoma Society.
The Valerie Fund often utilizes art therapy to cope with the stress and provide relief from symptoms while being treated for childhood cancer and blood disorders. The simple pleasures of creating art allows patients to express themselves and can be used as a non-threatening way to talk about their illnesses.
Opening their doors to the public for the first time, Radius' unique gallery will be featuring artwork from regional and world renowned artists. A very special piece, created by the patients at St. Joseph's Children's hospital together with the Radius team, will be auctioned that evening.
The event will include an open bar, full service of hors d'oeuvres, and a live musical performance provided by JazzHouse Kids. To become a sponsor visit www.thevaleriefund.org or https://www.artshines.org. Tickets for the event can be purchased in advance for $35. As space is limited, it's recommended to make reservations early.
Contact: Bunny Flanders, The Valerie Fund, 973-761-0422 ex. 14, bflanders@thevaleriefund.org
About The Valerie Fund- Each year TVF supports over 6,000 children and their families dealing with the social, emotional, developmental, and physical challenges associated with pediatric cancer and blood disorders. Seven Valerie Fund Children's Centers are located in major hospitals throughout NJ, NY, and metro Philadelphia.
About The Leukemia & Lymphoma Society- The mission of LLS is: Cure leukemia, lymphoma, Hodgkin's disease and myeloma, and improve the quality of life of patients and their families. LLS exists to find cures and ensure access to treatments for blood cancer patients.
About Radius Digital Science- Really, it's about art. Art for the sake of Science. Based in Montclair, NJ, Radius Digital Science was founded by–and for–highly skilled scientific storytellers, with a clear vision of providing the most effective, accurate scientific communications for the healthcare industry. With an extremely specialized team of scientifically trained, tech-savvy, creative strategists, our primary responsibilities are to those we produce education for: patients and their loved ones caring for them, and the healthcare professionals seeking to understand the difference between therapies. For these reasons and more the work we produce is executed with dedication and reverence. ArtShines is our way of getting involved, first-hand, and giving back.
Back to News Main Page