The Rook Run Grows In Support of The Valerie Fund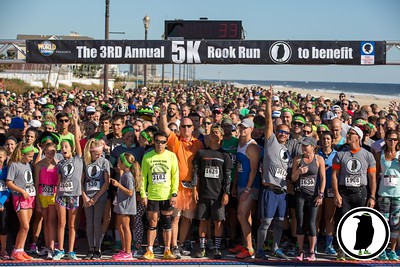 Long Branch, N.J. (August 31, 2017) – The Fourth Annual Rook Run (and walk) presented by World Subaru (worldsubaru.com) is set for Sunday, October 8, 2017. The 5K run and newly added one-mile walk will take place at the Great Lawn Section of the Long Branch, N.J. boardwalk.
World Subaru has supported The Rook Run tremendously for the past two years. In 2017, World Subaru has increased their charitable efforts by raffling a brand new 2018 Subaru Forester at The Rook Run. Raffle tickets may be purchased at rookrun.com, at bib and t-shirt pickup and at day-of registration on October 8.
"The entire team at World Subaru is excited to partner with The Valerie Fund as the Lead Sponsor of the 4th Annual Rook Run," says Joe Wajda, Executive Manager of World Subaru. "We applaud The Valerie Fund for their tireless commitment to helping children with cancer and blood disorders, and we are proud to stand beside you and work towards raising money to fund research, support and ultimately, a cure."
All proceeds from The Rook Run (and walk) support The Valerie Fund, a 501(c)3 non-profit organization whose mission is to provide comprehensive healthcare for children with cancer and blood disorders.
There are seven Valerie Fund Children's Centers treating over 6,000 children in the tri-state area, including one at The Unterberg Children's Hospital at Monmouth Medical Center in Long Branch.
This year, The Rook Run (and walk) has grown bigger than ever before. The event currently has 28 sponsors, who have donated over $100,000 and counting. There are also more than 20 sponsors donating products and services to support the event.
"The Valerie Fund provides an amazing experience for all of the children that benefit from visiting the center at Monmouth Medical. Our tour shed so much light on the committed and caring staff at The Valerie Fund Center and all that both patients and families receive from their services," says Candice Nigro, Senior Vice President, Marketing & E Delivery at First Atlantic Federal Credit Union. "As an organization that loves to help people, The Valerie Fund impressed every single First Atlantic staff member that participated in our tour of the facilities."
First Atlantic FCU joins World Subaru and the following 2017 Rook Run (and walk) sponsors: CDW, Ocean First Bank, Pier Village, Commvault, NJR Home Services, NJMom, Two River Community Bank, MR Valuation Consulting, LLC., Monmouth Medical Center, Monmouth Medical Foundation, Ansell Grimm & Aaron, Aspire Fitness, Purr'n Pooch Pet Resorts, Manasquan Bank Charitable Foundation, Atlantic Security & Fire, Urner Barry, Insurance Office of America, McLoone's, Wells Fargo, Jamian's Food and Drink, Hoffman's Ice Cream, Shire Pharmaceutical, Rooney's Oceanfront Restaurant, Investor's Bank, The Association of New Jersey Chiropractors and Builders' General Supply.
In 2016, The Third Annual Rook Run saw about 3,000 participants and raised over $213,000. To date, The Rook Run has raised over half a million dollars in support of The Valerie Fund's mission. This year's fundraising goal is $350,000.
Back to News Main Page