The Valerie Fund Announces the Junior Board and Young Associates Program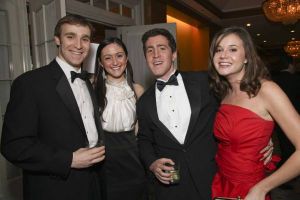 Maplewood, NJ– February 24 – Joseph Mangione, Chair of The Valerie Fund Board announced the formation of The Valerie Fund Junior Board. To complement the mission and goals of the executive board, The Valerie Fund Junior Board aims to ensure the longevity of The Valerie Fund by engaging a younger generation of participants with the cause, and enlisting supporters to carry the organization into the future.  A primary focus of the Junior Board is to connect enthusiastic young professionals in The Valerie Fund's many activities through the establishment of The Valerie Fund Young Associates program.
 The Junior Board is seeking to attract upstanding individuals in their late teens, twenties and thirties to serve as "Young Associates" of The Valerie Fund.  Young Associates will be invited to all Valerie Fund events, especially those social and service-oriented events exclusively targeted towards younger members. Additionally, Young Associates will have the opportunity to get involved with all aspects of the organization, including community outreach, social event planning, recruiting and fundraising.  With a robust Young Associate program, the Valerie Fund will have the energy and power of a new generation of leaders to help the organization achieve its mission of providing the finest health care services for children with cancer and blood disorders in the Tri-State area.
 "As a former Valerie Fund patient and forever a Valerie Fund kid, I am incredibly excited to help a new generation of people get involved with the organization.  The Valerie Fund has such an important impact on children's lives, we look forward to doing everything we can to contribute to its critical mission." said J.C. Uva, Co-Chair of The Junior Board.
 "I am very excited to be working with this talented group of young people," said Joe Mangione, TVF Chair. "Their capacity, drive and enthusiasm are amazing, and together we will do great things to move forward the mission of The Valerie Fund."
To Sign Up as a Young Associate
Back to News Main Page