The Valerie Fund's Camp Happy Times Excited For 32nd Summer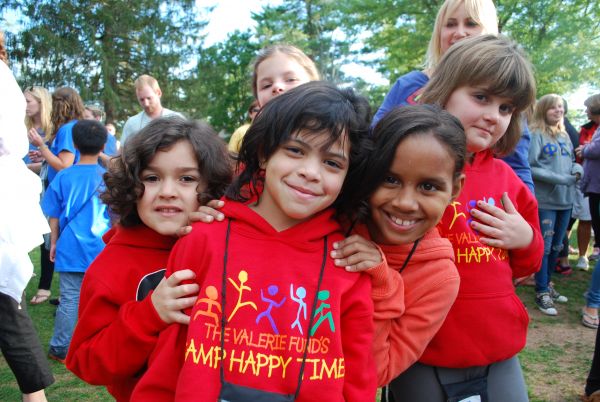 Camp Happy Times is a one-week overnight camp program for children who have or have had cancer. Camp Happy Times is run by The Valerie Fund, a nonprofit organization that provides comprehensive health care for children with cancer and blood disorders. Camp Happy Times welcomes nearly 200 children each summer, ranging in age from 5 to 21 years old. It allows children who have been through life-threatening illness to connect with others who have had similar experiences and know what they are going through.  Camp Happy Times aims to give kids a normal camp experience, and allows campers to be carefree and confident while building lasting friendships.
Camp Happy Times has been running for 32 years, and for the past 20 years has been under the leadership of the Volunteer Director, Millie Finkel. Camp is free of charge to patients and their families; everything is either donated or sponsored, and transportation and camp apparel are provided. Camp even boasts a "store" where campers can pick out many items ranging from toothpaste to ball gowns and suits for the dance, and everything in between. The cost? Just a smile! Camp also provides medical care for patients while they are away from home. There is a full medical staff including nurses, pediatric oncologists, residents and some counselors with medical backgrounds who are available around the clock.
All counselors are volunteers, and must be at least 22 years old to ensure they are qualified to provide the best care. Campers aged 19 to 21 years are part of the Camp's Leaders-In-Training (LIT) program, which aims to teach young adults life skills. This year's program includes a workshop sponsored by the National Council of Jewish Women, which will focus on building self-esteem, setting goals, and overcoming obstacles.
Emily Woznick, a 21-year-old rising senior at Wheelock College, is excited to complete her last year as a Leader-in-Training. She was diagnosed with Rhabdomyosarcoma when she was 8 months old. She has been attending Camp Happy Times since she was 9 years old when a nurse at her pediatrician's office convinced her to try it out. Camp offered her an escape and a chance to make lasting friendships and memories, while continuing to overcome various medical issues connected to her cancer.  "They make you feel so special," she says, noting that the 2:1 counselor ratio allows everyone to get attention. One of her favorite things about camp is that there is no judgment; "nobody cares if you have an IV pole...or you have an ostomy." She describes the deep connections that form at camp, and the type of friendship that occurs when you meet others that not only accept, but also understand what you are going through. "I think everybody needs that, and that's why I want so many people to come to camp." Even the counselors can become your close friends, and can provide guidance through their experiences. Emily can't wait to become a counselor, and hopes to go into children's services, hopefully as a child advocate. She believes that her illness is a blessing because "it brought me to where I want to be," and she looks forward to a career of helping children.
For Emily, as for many other children, going to Camp Happy Times was a life-changing experience and something to look forward to every year. The Valerie Fund is proud to offer this amazing opportunity to our children, and we are excited for another fantastic session beginning August 18th. For more information about Camp Happy Times or counselor positions for next year, please contact Millie Finkel at CampHappyTimes@TheValerieFund.org.
Back to News Main Page