The Valerie Fund Names New Chairman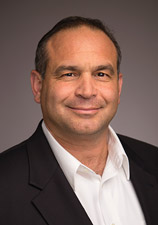 [Maplewood, NJ, September 6, 2016) The Valerie Fund is proud to announce that as of July 1st Dominic DiBari has assumed the role of Chairman of The Valerie Fund Board.
Dominic has been associated with The Valerie Fund since 2011 and was invited to join the Board of Directors in 2014. Dominic's son was successfully treated at The Valerie Fund Center in Morristown Medical Center after being diagnosed with Acute Lymphoblastic Leukemia. Since then, he and his family have been involved with numerous fund raising and support activities for The Valerie Fund. "It is our honor to welcome Domic DiBari as our new Chairman of the Board. To have someone with the professional leadership of Dominic guiding the organization only makes us stronger in our mission to support children with cancer and blood disorders." said Barry Kirschner, Executive Director.
Dominic works as Managing Director for Black & Veatch, a global engineering, construction, and consulting firm specializing in power, water, oil & gas, and telecommunication infrastructure. He is responsible for business development in the New York City metro area including New Jersey and Connecticut along with key client accounts. Dominic previously worked in electric generation for Public Service Enterprise Group (PSEG) and Reliant Energy supporting and running combined cycle natural gas and coal fired generation assets. Prior to his electric generation career, Dominic served in various operational roles at sea and ashore for the U.S. Coast Guard conducting and supporting search and rescue, law enforcement, and environmental protection on the high seas. Dominic earned his Masters of Science in engineering from the University of Illinois, Bachelors of Science in civil engineering from the United States Coast Guard Academy, and is a graduate of the Naval War College. He resides in Warren, NJ with his wife Karen and their three children.
"I am honored to work with such a committed and talented board, professional staff, and generous donor base to expand the important services provided by The Valerie Fund Centers for children and their families dealing with cancer and blood disorders" said Dominic after the election.
Dominic will serve a two year term with an option for renewal. He is succeeding Merrie Bernstein who was Chairman from 2012-2016 and successfully led the organization's growth and expansion of services.
Back to News Main Page