The Valerie Fund Walk & JAG Physical Therapy 5K Run raises money for local children with cancer and blood disorders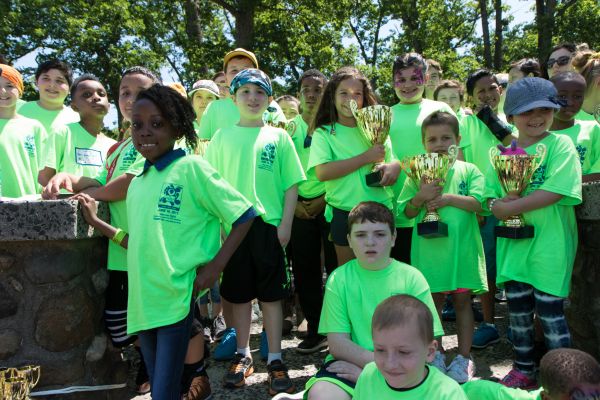 Maplewood, N.J., June 14, 2017- More than 4,000 people came to Essex County's Verona Park on Saturday, June 10th to celebrate the courage and resilience of children in our area being treated for cancer and blood disorders. Now in its 12th year, The Valerie Fund Walk & JAG Physical Therapy 5K Run is a community-wide event where participants, sponsors and volunteers come together and reinforce the belief that no one is alone in their battle against a life-threatening disease.
Since breaking the million dollar mark in 2012 more than $6.3 million has been raised to support the children and families of The Valerie Fund. Children like six-year-old Gavin who was diagnosed with Acute Lymphoblastic Leukemia (ALL) in December of 2016. Gavin's family and friends raised close to $28,000 for his team, Gavin's Gang, and can proudly claim the number two spot of the top ten fundraising teams. Gavin's mother, Carolyn, understood the importance of the grass roots efforts of hundreds of teams, individuals and local businesses. She will never forget the "fantastic camaraderie across the teams and participants during the Walk, helping to bolster an amazing fund that does wonders for the positive attitude that is critical to pediatric cancer treatment."
Sponsors continue to be the foundation of the event's success and generous corporate commitments were made by JAG Physical Therapy, Atlantic Health, RWJ Barnabas Health, Bank of America, Investors Bank and The Dannon Company. Burger King and a several ShopRite families---Inserra, Saker and Village have brought fundraising for The Valerie Fund into their restaurants and stores during promotional campaigns at registers which has raised money and awareness.
This year, The Valerie Fund was fortunate to receive support from new sponsors including Global Healthcare Management, Bats Global Markets, RSM US, Quest Diagnostics and St. Joseph's Children's Hospital, home of the newest Valerie Fund Children's Center. Jon Letko, CEO of Global Healthcare said, "We have only recently discovered what The Valerie Fund was all about and we knew it was an organization we wanted to work closely with. I am honored to have been able to sponsor their 5K Run/Walk event. No matter how much we support The Valerie Fund, what we get back is more than we could ever give. We are already looking ahead to see how we can help and get involved in the near future."
Celebrating 40 years of caring for children with life-threatening diseases. After their nine-year-old daughter Valerie succumbed to cancer, Sue and Ed Goldstein were determined that no family should have to travel great distances to receive state-of-the-art medical care. Along with a group of close friends, they began fundraising efforts from their living room---tireless work that would lead to the 1977 opening of New Jersey's first pediatric oncology facility at Summit Overlook's Hospital.
Today, more than 6,000 children with cancer and blood disorders benefit immeasurably by receiving their medical treatment close to home in a child-centered environment. The Valerie Fund ensures they do not have to rely on insurance reimbursements to receive a range of customized therapeutic services. The multi-discipline staff helps patients and families navigate the challenges faced at diagnosis, throughout treatment and beyond and includes social workers, child life specialists, educational liaisons, integrated medicine and palliative care specialists among others.
If the growth of The Valerie Fund services and staff is made possible due to the success of their fundraising, increased awareness is responsible for the rise in attendance and financial support. During the weeks leading up to The Valerie Fund Walk/5K Run, Clear Channel and Outfront Media provided billboards and WCBS Newsradio 880 ran features about patients and their families. These PSA's were also shown in over 600 area theatres on 5000 movie screens courtesy of Screen Vision Media.
On the day of the Walk/5K Run, WCBS-TV John Elliott and Vanessa Murdock broadcast live from Verona Park.
Once again Gallant Entertainment, donated the services of their much acclaimed New York Giants Drum Line to start off the walk with spirit. Other in kind donations that were crowd pleasers included food by Yasso Greek frozen yogurt, Philly Pretzel Factory of Livingston, Best Provision, Eppes Essen of Livingston and The Shannon Rose, coffee courtesy of Rook and snacks by Herr's, and Bimbo Bakeries USA. Montclair Art Museum brought their mobile art truck to the park and engaged children of all ages in arts and crafts projects.
Patients, family and friends begin looking forward to the day of the Walk months earlier during the September kick off of Childhood Cancer Awareness month.
For more information, please contact Bunny Flanders, Director of Marketing and Communications at bflanders@thevaleriefund.org
##
Back to News Main Page