The Valerie Fund Walk & JAG Physical Therapy 5K Run raises money for local children with cancer and blood disorders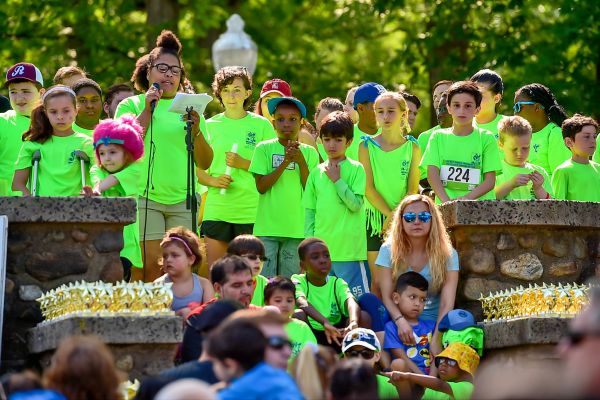 Maplewood, N.J., June 19, 2018- On Saturday, June 9th, more than 4,000 supporters joined together in a one mile walk around beautiful Verona Park in Essex County to celebrate the courage and resilience of children in our area being treated for cancer and blood disorders. Earlier in the day, the debut of a new flatter, faster 5K certified race course that straddled Verona and West Orange proved popular with over 800 registered runners.
#Whodoyouwalkfor? The Valerie Fund Walk & JAG Physical Therapy 5K Run is a community-wide event, now in its 13th year. Dominic DiBari, The Valerie Fund Chair reflects on what makes the event so powerful. "The Walk brings out the very best in humanity and our community to help children with cancer and blood disorders work through their challenges and not just survive, but thrive!" The hashtag #Whodoyouwalkfor? recognizes that everyone has been touched in some way by the devastating effects of a life-threatening illness and no one is alone in their battle.
Since breaking the million dollar mark in 2012 more than $7,250,000 (including $1,000,000 and counting at this year's event) has been raised to support the children and families of The Valerie Fund. Children like nine and a half year-old Grace who was diagnosed with a Germ Cell Brain Tumor in early May. Grace and her family raised close to $30,000 for her Walk team, GG's Angels and can proudly claim the number two spot of the top ten fundraising teams. Even though the family is in the early stages of this difficult journey, Aubrey, Grace's mother says her daughter has already experienced the benefits of psychosocial services provided at The Valerie Fund. She said Grace's session with the Integrative Medicine specialist included meditation, massage and aromatherapy and "has helped us all reduce stress and given us methods to facilitate peace when we are worried."
The grass roots efforts of Captains and their teams, 187 in all, raised close to 60% of the total and sponsors continue to be the foundation of the event's success. Generous corporate commitments were made by JAG Physical Therapy, the event's exclusive Run Sponsor, RWJ Barnabas Health, Atlantic Health System, Global Healthcare Management, The Edwin and Suzann Goldstein Family Foundation, Inserra Supermarkets, CBOE Global Markets, Danone, Investors Bank, St. Joseph's Children's Hospital and UPS. Burger King and Saker ShopRites have brought fundraising for The Valerie Fund into their restaurants and stores during promotional campaigns at registers which has raised money and awareness.
This year, The Valerie Fund was fortunate to receive support from new sponsors including Aetna, PricewaterhouseCoopers and Wind River Environmental.
For the third year in a row, Gallant Entertainment, donated their much acclaimed New York Giants Drum Line to send the walkers off with a high-energy performance. New to the event were Chevy's Fresh Mex, CycleBar in Livingston, Dunkin' Donuts and Jersey Mike's Subs. Crowd pleasers also included delicious food prepared by Eppes Essen of Livingston and The Shannon Rose, snacks by Herr's, and Bimbo Bakeries USA. Other refreshments were generously supplied by Best's, Dr. Pepper, Eight Hills Caterers and Village Supermarkets. Cotton Valley provided many of the event's logistical needs.
Celebrating more than 40 years of caring for children with life-threatening diseases. After their nine-year-old daughter Valerie succumbed to cancer, Sue and Ed Goldstein were determined that no family should have to travel great distances to receive state-of-the-art medical care. Along with a group of close friends, they began fundraising efforts from their living room---tireless work that would lead to the 1977 opening of New Jersey's first pediatric oncology facility at Summit Overlook's Hospital.
Today, more than 6,000 children with cancer and blood disorders benefit immeasurably by receiving their medical treatment close to home in a child-centered environment. Chair DiBari speaks from experience as he is also a parent of a former Valerie Fund patient. "People notice a special resolve in Valerie Fund kids that is enabled by the professional staff in our centers who are supported only through the generosity and caring of our many sponsors and donors." The multi-discipline staff helps patients and families navigate the challenges faced at diagnosis, throughout treatment and beyond and includes social workers, child life specialists, educational liaisons, integrated medicine and palliative care specialists and late effects teams. Most importantly, The Valerie Fund ensures families do not have to rely on insurance reimbursements to receive a range of customized therapeutic services that facilitate the healing process.
Two other facets of The Valerie Fund support include a free one week sleep away camp and a scholarship program for young adults heading off to college or grad school. Any child who has or has had cancer regardless of where they have been treated or where they live can attend Camp Happy Times in the Poconos. It is a place where encouragement and acceptance are the pillars of the program and campers agree, "There is no greater place in the world to let loose and be yourself."
Scholarships for college and grad school have grown to include 90 recipients and for many, their experiences with life-threatening illnesses have also shaped their decisions about future career paths.
During the weeks leading up to The Valerie Fund Walk and JAG Physical Therapy5K Run, Clear Channel Outdoor and Outfront Media provided billboards and WCBS Newsradio 880 ran features about patients and their families. These PSA's were also shown in over 600 area theatres on 5000 movie screens courtesy of Screen Vision Media. Valerie Fund patient Olivia and Marketing Director Bunny Flanders were interviewed live on CBS This Morning.
Patients, family and friends begin mobilizing for the Walk months earlier during the September kick off of Childhood Cancer Awareness month. For more information, please contact Bunny Flanders, Director of Marketing and Communications at bflanders@thevaleriefund.org


Back to News Main Page