The Valerie Fund Welcomes New Board Member Matt DeNichilo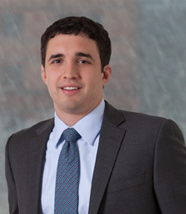 The Valerie Fund Welcomes New Board Member Matt DeNichilo
Business Executive is a Principal at Energy Capital Partners
[Maplewood, NJ, July 31, 2017) The Valerie Fund is pleased to announce the addition of their newest board member Matt DeNichilo to serve the nonprofit organization that provides support for the comprehensive health care of children with cancer and blood disorders. The appointment of the Short Hills-based executive embodies the Board's spirit of engaging a variety of community leaders to benefit from their insight and experience.
Chairman of the Board Dominic DiBari said, "The Valerie Fund is privileged to have Matt join our Board of Trustees. His passion for our cause, network, experience in private equity and board leadership is a great addition to our board as The Valerie Fund moves into its fifth decade."

Mr. DeNichilo currently serves on the boards of renewable energy company Terra-Gen, LLC and solar industry innovator Sunnova Energy Corp. With this new appointment, he is looking forward to making a difference in the lives of critically ill children and their families undergoing treatment at one of the seven Valerie Fund Children's Centers in our area.
Reflecting on this new role and responsibilities, Mr. DeNichilo said, "I'm very excited to be joining The Valerie Fund in its mission to support some of the bravest children in our local communities. The Valerie Fund team is making a compassionate and determined bid to improve so many different aspects of life for these children and their families. The results are inspiring, and I'm looking forward to helping the team grow and expand its impact."
Mr. DeNichilo is a Principal at Energy Capital Partners, a private equity firm focused on investing in North America's energy infrastructure. He is involved in all areas of the firm's investment activities, with particular emphasis on fossil and renewable power generation. Prior to joining Energy Capital in 2008, Mr. DeNichilo worked at JP Morgan in the Energy Investment Banking Group where he focused on leveraged finance and M & A transactions among independent power producers.Mr. DeNichilo received a B.S.E. in Operations, Research and Financial Engineering from Princeton University. He currently resides in New York City with his wife Rachel Cecil.
Back to News Main Page