VALERIE FUND PATIENT CARLY AND HER FAMILY BENEFIT FROM REALTORS' EFFORTS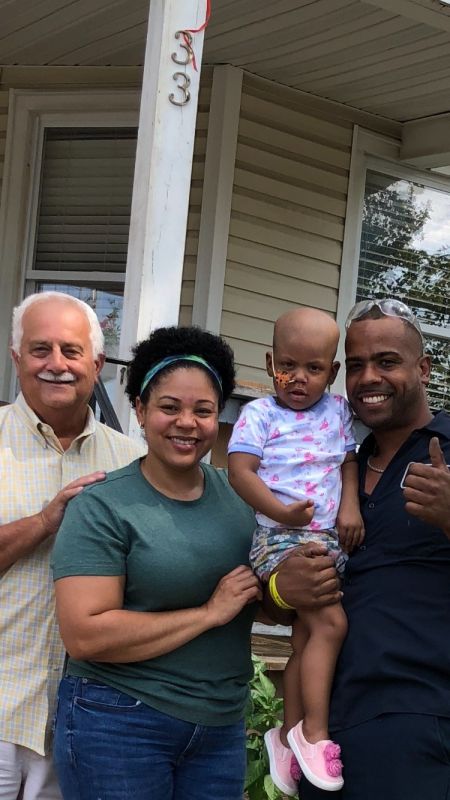 Paterson home of young cancer patient one of 15 properties repaired during New Jersey's Realtors® Care Day on
September 26th
When Richard Scillieri, Chairman of the Realtors ® Care Day committee at the Passaic County Board of Realtors® met 2 ½ year old Carly and her parents, Aida and Carlos, he was touched by the courage of this tiny tot who has been through so much in her young life. Diagnosed in February with Neuroblastoma, a rare cancer that forms in clusters in certain types of nerve tissues, seven tumors were found throughout Carly's body. Her initial treatment at The Valerie Fund Children's Center in Morristown Medical Center included chemotherapy, surgery, followed by more chemo, and a bone marrow transplant. A second bone marrow transplant was done on August 30th at Children's Hospital of Philadelphia (CHOP) where Carly is currently recovering. Radiation and immune therapy are still in her future.
In the time leading up to New Jersey Realtors ®' Realtors® Care Day, Scillieri, a realtor with a construction background thought about Carly coming back to her freshly spruced up house and was motivated to accomplish everything on the "to do" list. Working with the family during the preliminary site inspection, he incorporated everyone's ideas and priorities for home improvements. Originally from the Dominican Republic, the family which also includes Carly's two siblings have been living in the house in Paterson since 2012.
Their wish list included:
-a general cleanup of the entire property, debris removal, plant new front lawn and front bed with fall mums, perennial bushes and mulch
-installation of pavers on walkway from driveway to side of house
-paint front porch posts, railings and deck
-repair and paint brick foundation and front retaining wall
Scillieri was touched by the warm reception he received during his first visit. Families coping with the stress and responsibilities of caring for a critically ill child, in particular, find great relief by having necessary home projects addressed. The Passaic County Board of Realtors ®, passionate supporters of Valerie Fund patients, championed Carly and her family and coordinated efforts to match the young cancer patient with a crew of Realtor ® volunteers. Fourteen other deserving homeowners throughout the state benefited from the sweat equity and skill sets of many professionals during Realtors® Care Day 2018 on September 26th.
The coordinated assistance focused on cleanup of outdoor spaces and exterior home repairs. Realtors ® Care Days have made an extraordinary impact on the selected homes and their occupants. Safe and stable housing can be transformative, restoring a homeowner's pride in their property and collectively ensuring a community remains vital and thrives. The success of these one day initiatives is directly related to the time and energy selflessly donated by more than 150 New Jersey's Realtors ® members and the expertise contributed by housing industry specialists including builders, developers, painters, contractors, landscapers, and home inspectors.
The New Jersey Realtors ® Housing Opportunity Foundation (NJARHOF) provided reimbursements for expenses to each Realtors ® board (12 out of the state's 19 participated this year) who take responsibility for organizing teams, projects and soliciting donations and sponsorships. The non-profit's mission is to foster opportunities in New Jersey for safe housing and create affordable homeownership options. Previous projects NJARHOF has supported include donations to victims of Superstorm Sandy and sponsorship of Habitat for Humanity projects around the state.
Back to News Main Page